Please Note:
The Freedom Boat Club Partnership program was created to establish relationships with local businesses in order to provide additional value-added opportunities for its members, your customers. The local businesses offer a discount to members who present proof of their FBC membership
We would like to invite you to become a member of the Freedom Boat Club Partnership Program. If you are interested in this amazing opportunity, please contact us at lreho@freedomboatclub.com or call (727) 940-3408 and ask for Lisa Reho.
Click here for more details.
Gators

Join us for this year's WINNING SEASON, because it just doesn't make sense to get your Florida Gators action anywhere else!
Enjoy 5/$15 Bud Light in the Gator's Saloon Tasting Room (2nd floor) with the King Gator Show and more!

Our landmark sports bar and restaurant complex comes fully-equipped with the Gator's Saloon Tasting Room (FL craft beer!) and the Gator's Tiki Lounge on the second floor.
We have HDTV's, multiple stages and plenty of different bars in case you get lost.

Catch you on the waterside!
The Plantation On Crystal River
The Plantation is a beautiful 50-year-old, 232 acre eco-friendly resort offering comfortable accommodations, a full service spa, and is surrounded by the natural springs of Kings Bay. This bay in Crystal River is one of the largest aquifers in the state and home to more than 400 West Indian manatees that migrate each year to the warmth of the springs. Our onsite activities range from golf to boating and fishing with so much in-between and we offer several specials and packages to help sculpt your perfect vacation! There's always something fun to do at The Plantation on Crystal River!
Freedom Boat Club members will receive a 15% discount on their stay! The perfect place for a Stay-cation!
Our office is in Room 101!
Mad Beach Paddlesports
We are your one-stop shop for watersport equipment offering you more ways to enjoy your experience on the water - with NO HASSLES!
Order what you want and we'll deliver it to your location prior to your departure time (and pick it up when you are done).
Freedom Boat Club members will receive 10% off rentals and 5% off tours.
Ad-ons are currently available @ locations from Tierra Verde to Clearwater
Be sure to reserve your equipment 24 hours in advance.
Choose what YOU want • It will be ready for YOU upon arrival.
All you have to do is PLUG IN the pump into your boat and inflate your toys.
JUST ADD AIR
Rodan & Fields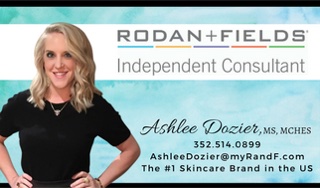 Rodan + Fields® is redefining the future of skincare. We are the #1 skincare brand in the United States, built on a legacy of innovative dermatology-inspired products backed by clinical results. At the core of everything we do is a commitment to create positive change in people's skin, in their lives and, ultimately, in the lives of others.
Independent Consultant Ashlee Dozier is proud to provide discounts and a FREE full-sized body sunscreen to all members of the Freedom Boat Club who become preferred customers with their first order. Please contact Ashlee before ordering to receive discounts and free gifts.
Tampa Bay Yacht Charter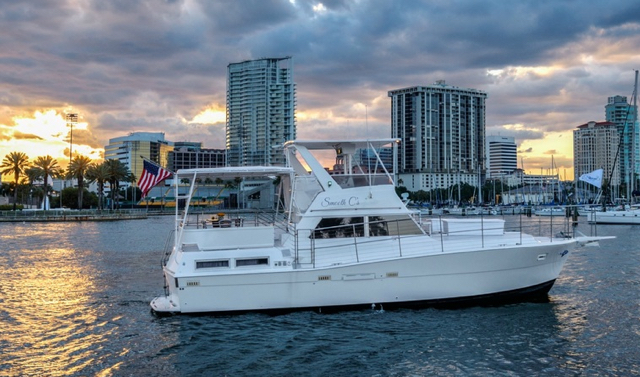 The Smooth C's is a 43' Viking Motor Yacht, USCG Certified for 20 passengers plus 2 crew, owned and managed by Tampa Bay Yacht Charter, LLC. We offer private 2 to 8 hour crewed luxury yacht charters or dockside meeting/event space in the St. Petersburg, Clearwater, Sarasota, and Tampa area, including the Tampa Convention Center. We specialize in corporate, executive, and team building events as well as social occasions such as weddings, birthdays, anniversaries or memorials at sea. Event charters include Gasparilla and SOFIC.
Special rates for Freedom Boat Club members.
For more information, please see tampabayyachtcharter.com.
Sea Hags Bar & Grill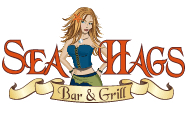 Accessible by land or sea, Sea Hags has earned a reputation for wonderful tasting food in a relaxed beautiful waterfront setting perfect for lunch, dinner or just a cold drink and a snack. Sea Hags offers a varied menu with first rate quality in food and service. Menu items range from appetizers, burgers, salads, pizza to full dinners. Be sure to check out Sea Hags' daily specials which earn their name in creativity and taste. Sea Hags also offers guests a variety of beverages from Sea Hag's two full service liquor bars.
You can dine inside and look through a forest of sailboat masts in climate controlled smoke free comfort or you can enjoy a Florida afternoon or evening at Sea Hags' open air Tiki Bar and patio dining area.
Freedom Boat Club members enjoy a 15% discount at Sea Hags.
Slyce Pizza Bar

We take pride in serving up great stone-baked artisan pizza in a uniquely contemporary and comfortable atmosphere. In addition to our signature Slyce pizza crust, we also offer our pizzas made with Whole Wheat or Gluten-Free pizza dough.
While it's true we're passionate about pizza, we also pride ourselves on our deliciously fresh salads and unique appetizers.
And of course, we wouldn't be a true pizza bar without serving up a great selection of seasonal craft beers and an excellent selection of fine wines and spirits.
Toasted Associates
Fresh Buoy-Licious meals delivered right to your dock before your departure!
Our goal is to make your excursion hassle-free by providing fresh meals. We are an eco-friendly company using reuseable, recycled, and biodegradable packaging to lessen our footprint on this beautiful earth.
We will provide you with a cooler, an orange reuseable tote for you to take home your leftovers, and a mesh bag for your recyclables. Upon returning to the dock, simply place your mesh bag in the cooler for proper recycling.
Click HERE to see our Menu and to Order

(727) 244-9484
Treasure Bay Hotel & Marina
FBC members get a fantastic room rate at Treasure Bay Hotel!
Members have access to the swimming pool, hot tub, poolside showers, bathrooms, etc. and as you know, the hotel is directly across from the Treasure Island municipal beaches.
All rooms are water views, either facing the Gulf of Mexico or the canal facing the Intracoastal waterway.
Call for details @ (727)360-4400 or visit Treasure Bay Hotel & Marina's website @ http://treasurebayhotelandmarina.com/