Welcome to the Freedom Boat Club of Tampa Bay!
We have 28 locations at some of the best boating and fishing spots around Tampa Bay, up the Nature Coast and east into Lake County. Add that to our fleet of 500+ boats and you have your passport to a lifetime of memories through hassle-free boating. Whether you want to take a center-console fishing or cruising in the Gulf of Mexico, or use our deck boats and pontoons to explore our beautiful lakes and barrier islands, or our skiffs and bay boats to fish the estuaries of Tampa Bay, we have it all! Our locations are unique in many ways. Explore them by clicking on the links at the bottom of the page.
Call 1-855-FREEDOM when you are ready to connect with one of our Membership Executives, or you can fill out the form below for more information.
Click for Overview Page
Connect with the Tampa franchise directly:
Tampa I (Hula Bay)
The Tampa location is located in the Tampa Harbor Marina, and is right next door to the magnificent waterfront restaurant Hula Bay as well as Dukes Retired Surfers Bar. Enjoy the pool at Hula Bay as well as the delicious food, drink and sunsets right from the waterfront dining areas. Our convenient South Tampa location is just seconds to the open waters of Old Tampa Bay.
Weedon Island is a favorite fishing spot among Tampa Bay anglers. Though shallow, it is home to some of the biggest Redfish, Sea Trout and Snook in the bay. Its winding estuaries are beautiful and wildlife abundant. You'll want to take a day to try your hand at fishing here.
The Getaway is just across the Gandy Bridge. It's a short ride to downtown Tampa, St. Pete. Clearwater or wherever you like. Just 15 minutes from downtown Tampa, Davis Islands, Hyde Park and historic St. Petersburg, there are no slow zones between the Gulf of Mexico's shimmering waters and us. On the way, you'll pass a deserted island where FBC Tampa have their island parties.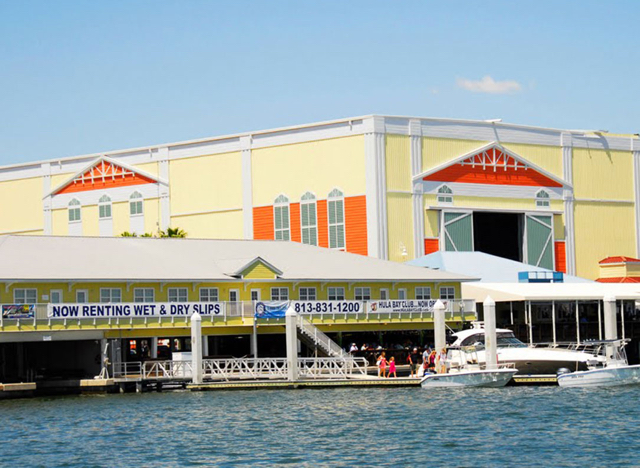 Schedule Your Free Boat Tour from this Location

YOUR NEXT STEP?
Click HERE to schedule your complimentary boat tour from this location.
Click HERE for things to do in the Tampa area.
Click HERE to visit our Online Help Center.
Click HERE to see our boats at this location.


Connect with the Tampa franchise directly:
Our Video Invitation to FBC Members to come and visit Tampa Bay!
We make boating simple, affordable and hassle-free! Call 1-855-FREEDOM today!